Clubs and Organizations
Your experience is part of your education - so make the most of it! Get involved in more than 20 clubs and organizations, or start your own!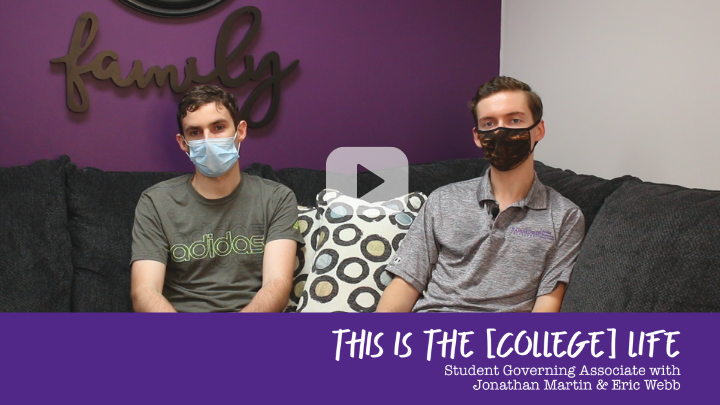 Active Clubs and Organizations on Campus
Aerospace Maintenance Professionals
K-State Salina's maintenance club, dedicated to helping student with their education and networking.
Air Force ROTC
Offered at more than 1,100 colleges and universities across the country, as well as on the K-State Salina campus; Air Force ROTC develops the leaders of tomorrow by preparing students to become officers in the U.S. Air Force while earning a college degree. Learn more.
Alpha Eta Rho
The K-State chapter of the International Professional Aviation Fraternity. We are co-ed and an aviation major is not required. Our organization builds connections within a variety of industries. We welcome all with an interest in aviation!
International Student Organization
We are a group for all students, but our focus centers around meeting the needs of our international student community. We have activities and are a good resource for questions and information, specific to international students. Even if you do not want to necessarily participate in our events or meetings, please join so that we can add you to our GroupMe. We use the GroupMe to communicate quickly about policies, information and events that you need to know about!
K-State Gamers Board
The purpose of this organization shall be to bring together people from
different majors and members of the surrounding community to socialize and interact in a healthy and safe environment. This is a positive tool for relieving academic stress, making new friends, and getting hands-on education with computer technology.
K-State Univesity Salina American Association of Airport Executives Chapter (AAAE)
The K-State Salina AAAE Student Chapter is a professional student organization that is centered on getting airport management students into the airport management world by participating in things such as conferences and airport activities. As a student organization, we encourage professionalism in the administration of airports through the acquisition of knowledge.
K-State Salina Baja SAE
K-State Salina Baja provides a great opportunity for students to pursue their passion of design and build an off-road vehicle and participate in national competitions. Students have exiting opportunity to network with K-State family, employers, businesses, industry, and community at large.
K-State Salina Christian Challenge
Christian Challenge is a Collegiate Ministry program on our campus that helps students bridge the gap, get plugged in, and learn more about what God has in store in their life. Christian Challenge meets weekly with large group Bible studies, and also has more personal small groups that journey through spiritual highs and lows together. Whatever your denomination, or whatever your belief we invite you to accept the Challenge, and learn more about the Lord and Savior we serve!
K-State Salina Powder Cats
We are a student-based club at K-State Salina that builds friendships with fellow students in the fun of ski trips!
Flying Wildcats
We are a student-based club at K-State University Salina. Our goal is to spread aviation to our local community and surrounding communities through events.
K-State Salina Programming Board
Programming Board is all about bringing students together. We provide activities, events, and opportunities for students to make friends and have fun while at K-State University Salina.
Our mission: Provide great programs that students want in a financially responsible manner.
SGA is an organization devoted to the accurate and credible representation of student interests in all aspects of Kansas State University Salina Campus, for a more reliable and applicable education. SGA is organized and lead by students to ensure student presence and in all levels of campus activity.
The Kansas State Student Veterans Organization, is a veteran organized and run organization which is supported by the university. The SVO exist to support our veterans and student veterans transition from the military to civilian/student life, assist them through school, offer support and services to ensure graduation and success, and then find a job upon graduation.
K-State Salina UAS Club
The Kansas State University UAS club is a club for those who are interested in the design, construction, operation, and/or integration of uncrewed and autonomous systems.
K-State Salina Women in Aviation
Membership is not restricted to women - all are welcome! We host community events/fundraisers and focus on making industry connections.
Kansas State University Flight Team
The Kansas State University Flight Team is a competition team that competes both regionally and nationally against other flight programs across the nation. Not only is the Flight Team a competition group, but also a volunteer group. They have helped host summer aviation camps for kids from 3rd grade through 12th grade and a variety of other volunteer activities throughout the year.
Solar Boat and Alternative Energy Club
We design and build alternative energy projects.
KSUS Composits Club
The KSUS Composites Club is an opportunity for members to gain composite experience and business acumen through real world projects for real world clients. The proceeds from these projects are used to fund opportunities such as attendance at trade shows, purchasing of club equipment, and subsidized composite education costs.
RC Club
We meet for enjoyment centered around the hobby of radio-controlled aircraft, cars and boats. We have a meeting place and work shop in the Aviation Center West Hangar. Many times a year we share simple meals together as part of our club meetings. We also host an annual indoor fun fly in the Student Life Center gym the last Saturday of January as a community outreach and fundraiser.
Salina Tabletop Gaming Club
Social Work Wildcats
The Social Work Wildcats is a registered student organization with the Office of Student Activities and Services at Kansas State University Salina Campus. The purposes of the organization are to promote professional excellence among social work students, to network with and perform service projects for the community that share social work values and principles, and to provide continuing education opportunities.
The organization is student-led and meets monthly. The activities, projects and leaders are determined by the membership. Members are encouraged to pay $10 per semester for participation, but no one will be denied membership if they cannot afford the dues.
Members must be in good academic standing with the university. Membership is NOT limited to social work majors. All registered Kansas State University Salina students are welcome. If you are interested in joining, please ask a student or professor for the date of the next meeting.
Don't see a club that reflects your interest? Start your own! You only need a total of three students and an advisor.
Contact Us
Joshua Doak
Student Activities Coordinator
785-826-2667
Office Hours
Mon-Fri: 8 a.m. - 5 p.m. CST